We are in the process of updating our product line. 
Please check back soon.
read more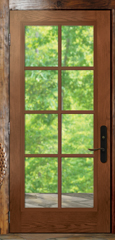 Masonite clear or textured glass door. Intuitively designed, the pieces snap into place to form the grid configuration and align perfectly with Masonite lite frames.
 Features
Smooth or textured available: white, almond and mahogany.
Standard or Prairie configurations available.
Doors can be painted or stained.
Feature strong, weather-resistant adhesive tape.
Kit includes set for inside and outside of door.
read more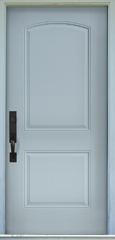 Masonite 2 Panel Roman Belleville
®
 Smooth fiberglass entry door forges a historic partnership with our 2 Panel Roman molded panel interior door.
Features
Adds design coordination between interior and exterior product lines.
Design compliments Steel 2 Panel Roman and interior molded 2 Panel Roman.
20-Minute fire rating available.
10″+ Bottom rail meets accessibility requirements.
Available in 6′-8″ and 8′-0″ heights.
Available in 2′-8″, 2′-10″, and 3′-0″ widths.
Accommodates 106 (22″ x 36″) or 107 (22″ x 37-1/2″) glass insert.
read more